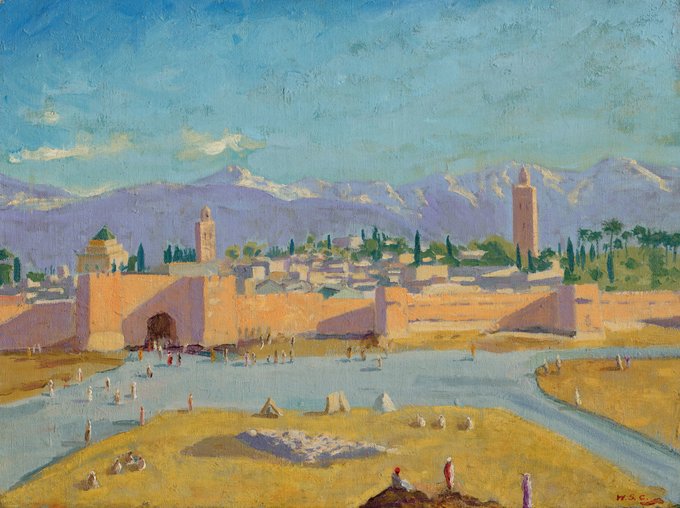 Named: "Tower of the Koutoubia Mosque sold at a Christie's London auction for far beyond the auction house's $3.4 million estimated high-end price tag. Boy, was Christies wrong on that one.
Winston Churchill believed "Marrakesh is simply the nicest place on Earth to spend an afternoon".
Churchill began his love affair with Marrakesh during the "wilderness years" of the Thirties when, frustrated by the Baldwin government's refusal to give him a cabinet position, he spent the winter of 1935-36 on a painting holiday in Morocco. He was particularly attracted to a city he called the "Paris of the Sahara" because of the striking contrast between the city's arid desert location and the backdrop of the imposing Atlas Mountains that surrounded Marrakesh, which inspired him to paint some of his finest watercolours.
Thus when, in 1943, Churchill arrived in Casablanca for a summit with Roosevelt and the Allied chiefs of staff to plot the future course of the military campaign to defeat Nazi Germany, the British prime minister insisted that the two leaders take a break from their deliberations to spend a few days in Marrakesh.
The painting shows a sunset over Marrakech's largest mosque with the Atlas Mountains in the background, which Churchill took President Franklin Delano Roosevelt to see the day after the 1943 Casablanca Conference, where the allies committed to seek Nazi Germany's unconditional surrender.
Roosevelt was so enamored with the sunset that Churchill painted the scene as a gift for the president, the only piece of art he completed during World War II, according to Christie's.
Christie's head of modern British art Nick Orchard said in a statement the painting is "arguably the best painting by Winston Churchill" because of the subject's personal significance to him and how it symbolizes his relationship with Roosevelt.
The painting was purchased by Jolie and her ex-husband Brad Pitt in 2011, and was part of an expansive art collection held by the couple that was estimated to be worth roughly $25 million.
Hits: 0